يرجى النقر على كلمة "الإنجليزية" في الزاوية اليمنى العليا من هذه الصفحة لتحديد لغة مختلفة
Fadlan dhagsii erayga "Ingiriis" ee geeska kore ee midig ee boggan si aad u doorato luqad kala duwan
Haga clic en la palabra "Inglés" en la esquina superior derecha de esta página para seleccionar un idioma diferente
STUDENT AND PARENT HANDBOOK
Parents and students are required to agree to Metro's Student /Parent Handbook each year during registration. A downloadable copy of is located in the left column of this page under "Related Documents." We recommend that you review the handbook before you consent to agreement through our registration system.
Handbook Foreword
This Student Handbook was developed to answer many of the commonly asked questions that you and your parents may have during the school year and to provide specific information about certain Board policies and procedures. Please take the time to become familiar with the important information contained in this Handbook and keep the Handbook available for frequent reference by you and your parents. If you have any questions that are not addressed in this Handbook, you are encouraged to talk to your teachers or the building principal. This Handbook replaces all prior handbooks and other written material on the same subjects. This Handbook does not equate to an irrevocable contractual commitment to the student, but only reflects the current status of the Board's policies and the School's rules as of August 2019. If any of the policies or administrative guidelines referenced herein are revised, the language in the most current policy or administrative guideline prevails. Copies of current Board policies and administrative guidelines are available from the building principal and on Metro's web site.
Metro's Vision
To provide a small and intellectually vibrant learning community designed to serve students who want a personalized learning experience that prepares them for a connected world where math, science, and technology are vitally important. All Metro students engage in a personally relevant and academically rigorous curriculum within a safe and trusting environment.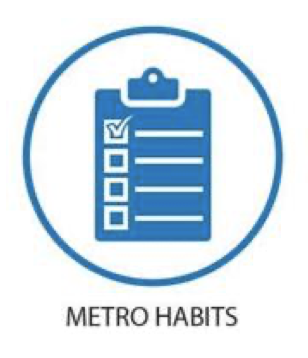 Metro's Mission
Our mission is to have all members of the Metro community seek to improve their practice of the Metro Habits of Heart and Mind:
Effective Communicator: Students will communicate their ideas clearly and have the ability to reflectively consider others' ideas, even when those ideas may differ from their own.

Inquiring Learner: Students will be inquisitive thinkers, not only asking questions but acting upon those questions in an effort to discover the answers, accepting confusion, uncertainty, and the risk of failure as part of the process.

Active and Responsible Decision Maker: Students will make decisions rationally and purposefully, considering all available alternatives in order to find the best possible course of action.

Effective Collaborator: Students will work independently and as contributing
members of a team, accepting and reacting to improve oneself based on feedback and critique, and demonstrating compassion and honesty in all interactions with others.

Critical Thinker: Students will be creative thinkers, approaching new and perplexing problems with positive energy, uniqueness, and originality of thought, drawing from their own personal experiences and prior knowledge.

Engaged Learner: Students will exhibit persistence, sustaining a problem-solving process over time while remaining focused and producing multiple drafts, much as a skilled artisan, to achieve success.