Haga clic en la palabra "Inglés" en la esquina superior derecha de esta página para seleccionar un idioma diferente.
يرجى النقر على كلمة "الإنجليزية" في الزاوية اليمنى العليا من هذه الصفحة لتحديد لغة مختلفة
Fadlan dhagsii erayga "Ingiriis" ee geeska kore ee midig ee boggan si aad u doorato luqad kala duwan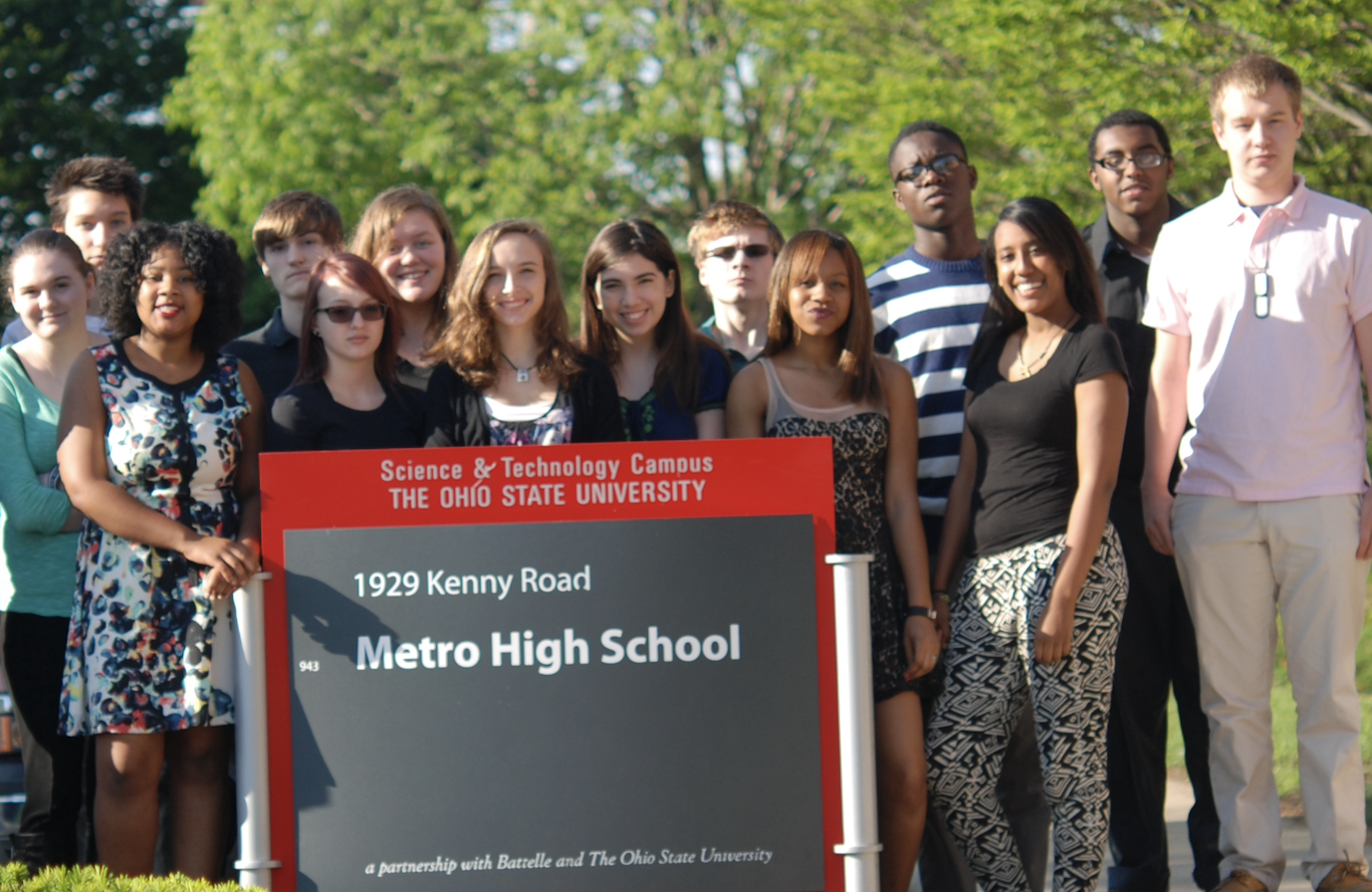 METRO EARLY COLLEGE HIGH SCHOOL
Established in 2006, Metro Early College High School was born out of the desire of both the Ohio State University and Battelle to create a "small" STEM (science, technology, engineering, mathematics) school with a "big footprint." Made possible through the facilitation and network of the Educational Council, Metro is the platform school for The Ohio STEM Learning Network (OSLN), and was the first higher education (The Ohio State University), business (Battelle Memorial Institute), and K-12 partnership for STEM learning in Ohio.
METRO EARLY COLLEGE MIDDLE SCHOOL
In the fall of 2013, Metro piloted a Middle School program with 100 students. This middle school pilot was born out of a desire to have a greater impact on incoming high school students. The plan, which has been extremely successful, was to close or lessen gaps in student learning prior to high school enrollment.
The 2014-2015 school year began with full implementation of grades 6-8. Spring OAA results for the pilot group of students were very promising. Thanks to an extremely dedicated staff, outstanding parents, and highly engaged student body, the future for Metro Middle School and ultimately Metro Early College High School looks very bright.
HOW WE OPERATE
Metro operates on a Mastery-based system. In order to receive credit for a class, the student must attain a 90% or higher. There are opportunities to remediate work or retake classes if this benchmark is not met. The goal is to ensure students attain a working knowledge of course content so they can successfully move into the next course in the curriculum.
Metro classes are given in longer blocks to help develop strong student/teacher relationships, motivate deep inquiry, and help students prepare for college coursework. Each student participates in Advisory, ensuring they have an adult to serve as their advocate and to provide a framework for goal-setting and personal skill-building.
Visit our Course Catalog & Resources page to read course descriptions.
MIDDLE SCHOOL CURRICULUM
Metro's Middle School Curriculum is designed to prepare students for the rigors of high school. Coursework is aligned with state of Ohio standards and challenges students to be engaged and inquiring learners.
Students begin taking ownership of their progress through self-reflective reviews of their work called Roundtables and are encouraged to become self-advocates. Those who successfully complete all required coursework in a core area can progress to high school credits offered at the middle school level or in the Metro Early College High School program.
HIGH SCHOOL CURRICULUM
Metro's Early College High School Curriculum is divided into two phases: Core Prep and College Access. Each student receives a personalized learning plan to target successfulness in both phases.
Core Preparation
During the Core Prep Phase 9th and 10th grade students prepare for and explore the different areas of learning such as mathematics, science, social studies and language arts. As the students demonstrate performances in these areas, they acquire the skills necessary to complete Ohio graduation requirements and to successfully navigate the early college program. In addition, students participate in design challenges where they investigate solutions to real world problems. These design challenges help showcase their ability to work individually and collaboratively to use the design cycle in creative problem-solving.
College Access
Upon successful demonstration of Mastery in the Core Prep Phase, students move into an environment that focuses on learning outside of school walls. This involves enrolling in Early College Experiences (ECEs), college courses at either The Ohio State University or Columbus State Community College, and participating in an internship. Students have an option of ECEs based on their area of interest. While the Core Prep phase focuses on capacity building, the College Access phase focuses on practical experiences, skill development, social maturity, critical thinking, and responsibility.
METRO EXPANSION PLAN
Metro's original goal of being a "small school with a big footprint" was intended to ensure our programs of study would be accessible to as many students as possible. This mission has been accomplished through shared programming with area districts and the adoption of best practices by schools beyond our state through the Ohio STEM Learning Network.
From a small high school, we have grown into a 6-12 program and have plans for expansion to elementary grades and multiple locations. We are excited about the future of Metro Schools and the opportunity it will grant us to continue offering quality programs for all students.
As of 2021, we are working in collaboration with our partners for the next phase of growth. You can view an outline of the expansion plan presented to the Metro community in spring of 2021 here: Metro Expansion Update. Visit the Construction & Expansion Page of our website for updates.
Ohio's Early College High Schools