Save the Date: May 25, 2021
Join us for a virtual Business Roundtable on the role Metro's critically acclaimed STEM-based education model plays in preparing students for our region's STEM workforce needs.
About the 2021 State of STEM
Dear Friends of Metro:
Today's global economy requires workers who can think critically, solve problems, and work collaboratively. It needs young adults with a strong background in STEM education who can advance initiatives, challenge existing methods and forge new techniques and programming. Thousands of STEM-centric jobs go unfilled in the Central Ohio Region because not enough applicants possess the necessary expertise.
Metro Schools is leading the charge in Central Ohio with its nationally recognized STEM education model to help address business' short and long term workforce challenges. Metro collaborates with Central Ohio businesses and industry partners to develop STEM curriculum and early college pathways that meet specific workforce needs and offer authentic internship opportunities.
This year, in lieu of our traditional breakfast gathering, we are asking that you join our Business Advisory Committee members for a virtual Business Roundtable on May 25 from 7:30am to 8:30am. The Roundtable will feature business leaders who understand the importance of partnering with local high schools to provide internships and prepare our future workforce. The Internship Roundtable will discuss how Metro works with our partners to host valuable internships and provide recommendations to any business interested in establishing a program.
Please consider joining with us in preparing students for the jobs of the future by sponsoring a capstone or internship. Metro students participate in projects to prototype a resolution to a problem of practice, conduct research and practice the skills necessary for a career.
Thank you in advance for your consideration of an investment in STEM workforce development through a partnership with Metro Schools.
Meka Pace, Superintendent
Metro Schools
Metro Pathways focus on an area of industry and infuse an integrated, hands-on, relevant curriculum. Students have the opportunity to learn about the many jobs within a field of study, conduct authentic research and work alongside professionals in the field.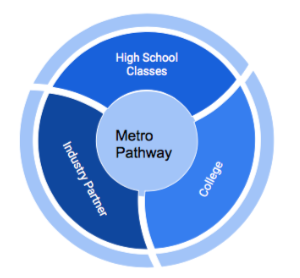 BODIES
Focus on BioMedical & Health Science

DESIGN
Focus on Math, Engineering, Engineering Tech & Logistics
DIGITAL
Focus on Interactive Media & Cyber-Security

ENERGY
Focus on Energy, Economics & the Environment
GROWTH
Focus on Food Systems, Environmental Science & Culinary Arts

Metro Business Advisory Committee
| | | | | | | | |
| --- | --- | --- | --- | --- | --- | --- | --- |
| | Ian Mincey, Yates Construction - Committee Chair | Will Vranich, Sauer Group, Inc. | | | Michael Suhovecky, SciTech | Matt Plotts, Vaughn Industries | Tyler Hertenstein, Metro Schools |
| | Kishore Ravilla, OhioHealth | Paige Love, JPMorgan Chase & Co. | Vanessa Jester, Turner Construction | Sumithra Jagannath, ZED Digital | Ron Stokes, Three Leaf Productions/LARS LLC | Rengasayee Veerarghavan, OSU Biomedical Engineering | Edward Fletcher, OSU College of Education & Human Ecology |
Contact Metro Development Officer Cathryn Geppert with any questions.
(W) 614-259-6639, (C) 916-893-6785 or geppert@themetroschool.org
THANK YOU TO OUR 2020 & 2021 SPONSORS!