EDIT MAIN
METRO EARLY COLLEGE High School
---
Applying to Metro Early College HS
Metro Early College High School is accepting applications for the 2019-20 school year. The deadline to be included in the 2019-2020 admissions lottery is February 17, 2019.
Click here to begin your application.
Families interested in enrollment are encouraged to attend an Information Session to learn more about our program. Meetings are scheduled for Tuesday, November 13 at 6pm at 1929 Kenny Road; Tuesday, November 27 at 6pm at 303 S. Grant Street; and Saturday, January 12 at 10am at 1929 Kenny Road. If you are unable to attend, you may contact the school to schedule a tour.
About Metro
Metro Early College High School is a small, intellectually vibrant, Ohio public STEM high school open to students in the state of Ohio. It is an early college program focused on problem-based learning with an emphasis on STEM learning practices (science, technology, engineering, and math). Initially serving students from 16 Franklin County school districts, Metro now serves students from 29 districts all over the state.
Metro's mission is turning college aspirations into reality through personal relevance, academic rigor, and transformative relationships. Students engage in a curriculum that allows them to complete high school coursework at an accelerated pace and access professional internships and college coursework before graduation.
New Student/Parent Interviews (presentation)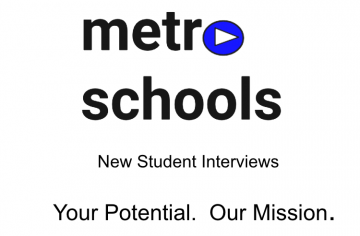 MECHS J-Term Presentation